Payment Method
Pay with Paypal

After you have placed an order using PayPal, you will be taken to a special payment page where you can login with your PayPal username and password. On this page, you can confirm your payment and complete the order.
Even if you don't have a PayPal account, you can still proceed with the checkout process. Simply click on "Pay with Debit/Credit Card" and you will be directed to a secure page where you can enter your credit card details, or safely complete your payment via PayPal.
Pay With Credit/Debit Card
Although the credit card companies listed above are the most commonly used ones on this website, you don't have to worry if your credit card company is not on the list. We encourage you to proceed with your purchase regardless.
Please note that AmanCarport does not collect your credit/debit card number or personal information when you make a payment. For questions regarding your transactions on our site, please consult your card-issuing bank for information.

Please refer to the following steps for Credit/Debit card payment:

Pay With Klarna

We also support Klarna installment payment, but only in the US.
Please refer to the following steps Klarna payment: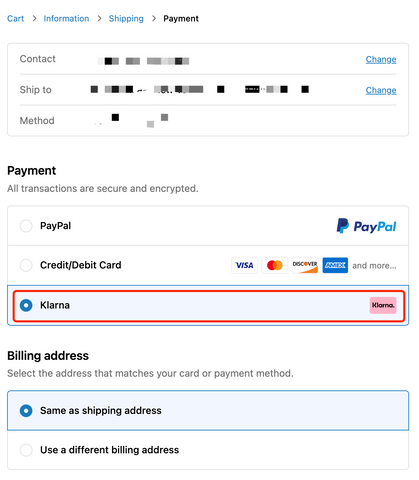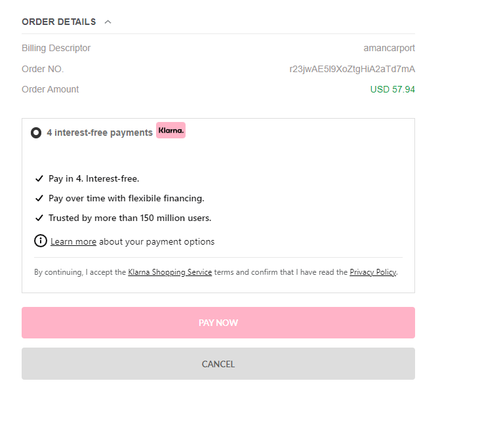 There are NO hidden charges when you make a purchase on Love Style, Customs and duty fees are included in your order and/or shipping total.The price you see on the product page is exactly what you pay.

Our shipping fee is £6.69, and we provide free shipping service for orders over £40.
Any questions please feel free to contact us.